Recycled Magnetic Locket Sets By Polarity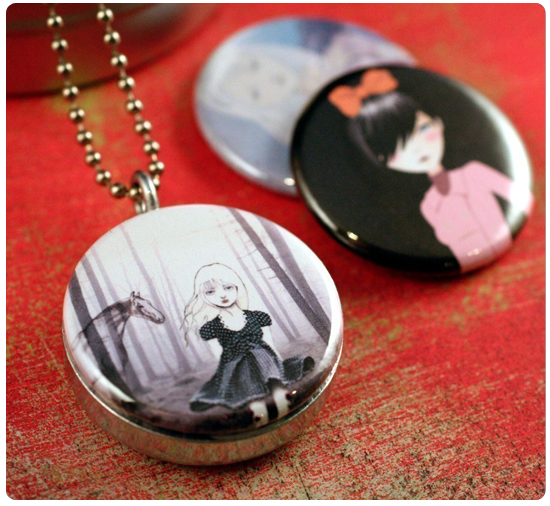 Cat Ivins, the fabulous owner and designer of Olive Bites Studio creates sustainable and recycled jewelry and homewears. She ingeniously uses repurposed, recycled and sustainable cork and recycled steel materials in order to leave the lightest possible footprint in her wake. Her line of industrial steel jewelry turns one piece of jewelry into many with the interchangeable lids.
At Polarity, she has also successfully illustrated the staggering potential of collaborative thinking by partnering with other creative Etsians and growing as a collective phenomenon. She has consistently invited several Etsy artists to feature their work on the Polarity Locket Artist's Series. She has shown that if done in the right spirit, can generate a rich variety of different perspectives and offerings. That's because the artists she has chosen are magically unique. Her endorsement of diversity—letting the artists retain their individuality while combining their talents—created the cooperative synthesis that made her vision a reality. Even back in 2009, she was already getting positive response in her Etsy Featured Seller interview.
"…the positive response in my Polarity shop for my new artist series of lockets has amazed me. Promoting and supporting other artists has a way of working its way back to you in surprising ways."
As a Creative Director who has worked with many diverse designers over the years to come up with unique solutions to cut through the clutter, I have to say… I LOVE THIS STRATEGY! It's absolutely true that the communal mind is an immensely larger loom that can generate something immeasurably more creative than the products of any solitary artist or designer.
See for yourself! I am very humbled that she still has me on her list of artists to help represent her products.